Are you a fan of spicy and flavorful dishes? Look no further than the delectable combination of tteokbokki and cream cheese. This unique fusion of Korean and Western flavors will tantalize your taste buds and leave you craving for more. In this article, we will explore the origins of tteokbokki, the versatility of cream cheese, and how these two ingredients come together to create a truly indulgent culinary experience. Get ready to embark on a culinary journey that will delight your senses!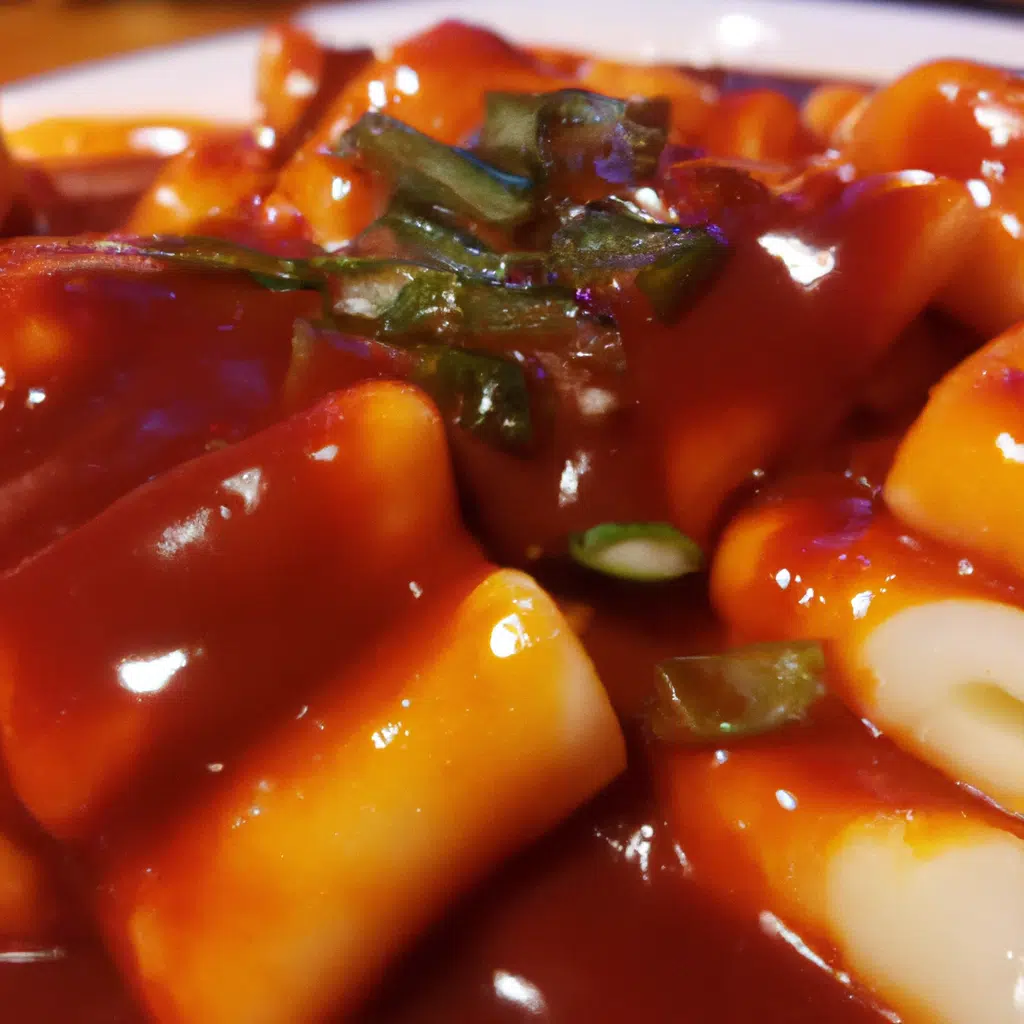 The Origins of Tteokbokki
Tteokbokki, also known as spicy rice cakes, is a popular Korean street food that has gained international recognition for its bold and fiery flavors. Traditionally made with cylindrical rice cakes, gochujang (a spicy red pepper paste), and various other ingredients, tteokbokki has become a beloved staple in Korean cuisine. Its rich history dates back to the Joseon Dynasty, where it was initially enjoyed by the royal court. Over time, tteokbokki made its way into the streets of Korea, capturing the hearts and palates of locals and tourists alike.
The Versatility of Cream Cheese
Cream cheese, on the other hand, is a creamy and smooth dairy product that originated in Europe. Its mild and slightly tangy flavor profile makes it a versatile ingredient that can be used in both sweet and savory dishes. Cream cheese is commonly associated with bagels and cheesecakes, but its potential goes far beyond these popular treats. When paired with tteokbokki, cream cheese adds a touch of richness and creaminess that balances out the spiciness of the dish. The combination of these two contrasting flavors creates a harmonious blend that is both comforting and indulgent.
Tteokbokki and Cream Cheese: A Match Made in Culinary Heaven
The marriage of tteokbokki and cream cheese may seem unconventional, but it is a match made in culinary heaven. The creamy and tangy notes of cream cheese help to mellow out the intense heat of the gochujang, creating a delightful contrast of flavors. The smooth texture of the cream cheese also complements the chewy texture of the rice cakes, resulting in a satisfying mouthfeel. Whether you are a fan of spicy food or prefer milder flavors, the addition of cream cheese to tteokbokki offers a delightful twist that will leave you wanting more.
Tteokbokki and Cream Cheese Variations
The beauty of tteokbokki and cream cheese lies in their versatility. You can experiment with different variations to suit your taste preferences and dietary restrictions. Here are a few ideas to get you started:
Tteokbokki-Stuffed Cream Cheese Balls: Scoop out small portions of cream cheese and wrap them with tteokbokki. Deep-fry or bake these bite-sized treats for a crispy and creamy delight.
Tteokbokki and Cream Cheese Pizza: Spread a layer of cream cheese on your favorite pizza crust and top it with tteokbokki, along with other ingredients like mozzarella cheese, vegetables, and meats. Bake until the crust is golden and the cheese is melted for a unique fusion pizza experience.
Tteokbokki and Cream Cheese Grilled Sandwich: Layer tteokbokki and cream cheese between slices of bread and grill until the cheese is melted and gooey. Enjoy the contrasting textures and flavors in every bite.
Where to Find Tteokbokki and Cream Cheese
If you're eager to try this mouthwatering combination but don't have the time or ingredients to make it at home, fear not! Many Korean restaurants and food stalls have caught on to the tteokbokki and cream cheese trend, offering it as a menu item. Check out local Korean eateries or search for food trucks that specialize in Korean cuisine. You may even find tteokbokki and cream cheese featured in trendy fusion restaurants that embrace culinary experimentation.
Conclusion
In conclusion, tteokbokki and cream cheese make a winning combination that is sure to leave you craving for more. The fusion of Korean and Western flavors creates a unique and indulgent culinary experience that is both comforting and exciting. Whether you're a fan of spicy food or prefer milder flavors, the addition of cream cheese to tteokbokki adds a creamy richness that complements the dish perfectly. So, why not embark on a culinary adventure and try tteokbokki and cream cheese for your next meal? Your taste buds will thank you!