Are you tired of the same old flavor combinations? Do you want to take your taste buds on an extraordinary culinary adventure? Look no further! In this article, we will uncover the hidden gems of Korean cuisine and introduce you to some surprising food pairings that will leave you craving for more. Get ready to be amazed as we explore the unique and tantalizing flavors that Korean cuisine has to offer.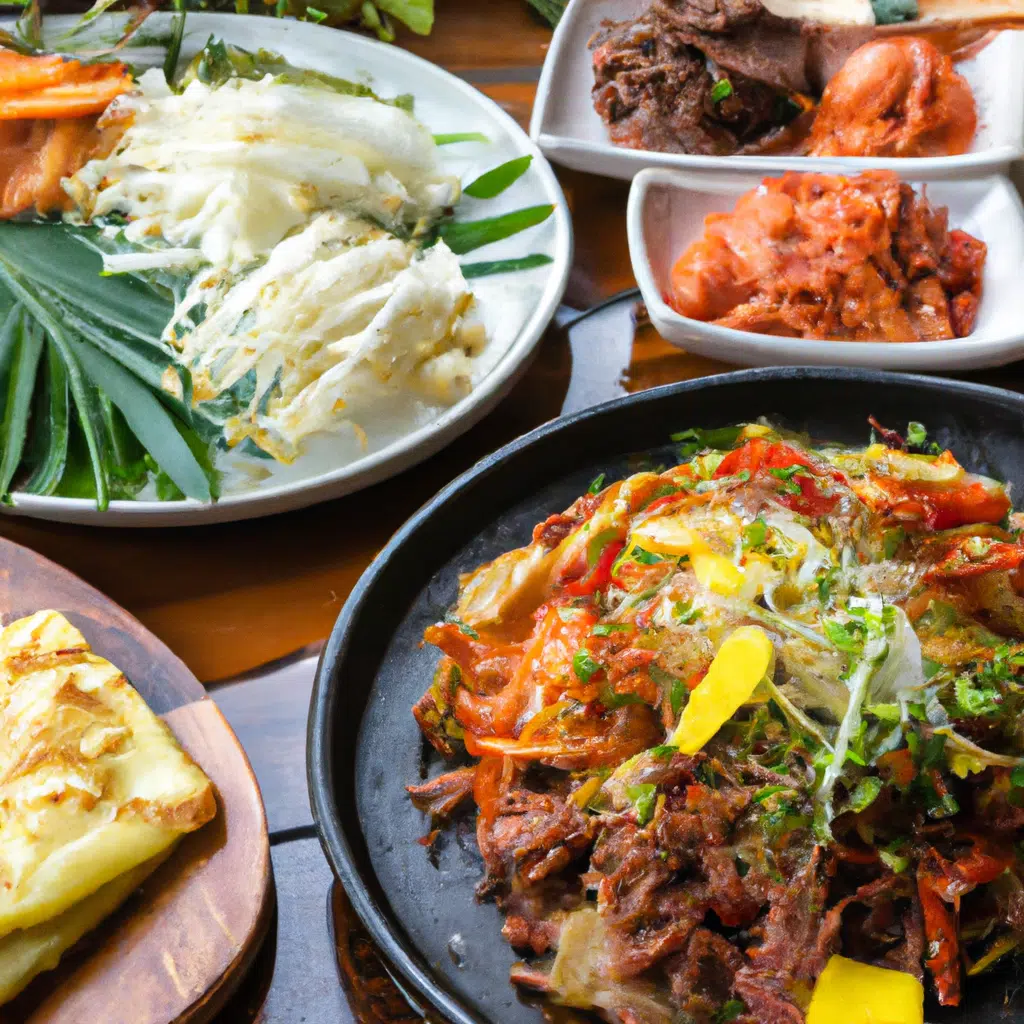 The Art of Korean Food Pairings
Korean cuisine is renowned for its bold and complex flavors. It is a harmonious blend of sweet, spicy, sour, and savory tastes, all carefully balanced to create a delightful culinary experience. Traditional Korean meals consist of various banchan (side dishes) that complement the main course, adding depth and richness to the overall flavor profile.
1. Kimchi Pancakes with Soy Sauce
Kimchi, a staple in Korean cuisine, is a fermented vegetable dish known for its tangy and spicy flavors. While kimchi is often enjoyed on its own, it can also be used to create mouthwatering dishes like kimchi pancakes. These savory delights, made by mixing chopped kimchi with batter, are best enjoyed with a drizzle of soy sauce. The combination of the crispy pancake and the umami-rich soy sauce will surely captivate your taste buds.
2. Bibimbap with Gochujang
Bibimbap, a popular Korean dish, is a colorful medley of rice, vegetables, meat, and a fried egg, all beautifully arranged in a bowl. To elevate the flavors of this iconic dish, try adding a spoonful of gochujang, a spicy fermented chili paste. The fiery kick of gochujang will transform the dish into a flavor explosion, leaving you craving for more with each bite.
3. Bulgogi and Lettuce Wraps
Bulgogi, thinly sliced marinated beef, is a Korean BBQ favorite. For a refreshing twist, try wrapping the succulent bulgogi in crisp lettuce leaves. The combination of the tender beef, the crunch of the lettuce, and the added freshness of garlic, sesame oil, and ssamjang (a spicy dipping sauce) creates a harmonious blend of flavors that will take your taste buds on a tantalizing journey.
4. Tteokbokki with Cheese
Tteokbokki, a beloved Korean street food, consists of chewy rice cakes cooked in a spicy gochujang-based sauce. To add an unexpected twist to this classic dish, sprinkle some grated cheese on top. The melted cheese creates a creamy and indulgent texture that beautifully complements the spiciness of the sauce, resulting in a delightful explosion of flavors in your mouth.
5. Japchae with Sesame Oil
Japchae, a stir-fried glass noodle dish, is a popular choice for special occasions in Korea. To enhance the flavors of this delectable dish, drizzle some aromatic sesame oil over the noodles. The nutty and rich flavor of sesame oil adds a layer of complexity to the dish, elevating it to new heights of deliciousness.
6. Samgyeopsal with Lettuce Wraps and Ssamjang
Samgyeopsal, thick slices of grilled pork belly, is another beloved Korean BBQ dish. To fully enjoy the flavors, wrap the grilled pork in lettuce leaves and add a dollop of ssamjang. The combination of the smoky pork, the freshness of the lettuce, and the spicy, savory ssamjang creates a burst of flavors that will leave you wanting more.
7. Haemul Pajeon with Soy Dipping Sauce
Haemul Pajeon, a savory seafood pancake, is a popular Korean dish enjoyed as an appetizer or a main course. To enhance the flavors of this crispy pancake, serve it with a soy dipping sauce. The umami-rich soy sauce perfectly complements the seafood flavors, creating a delightful harmony of tastes.
Conclusion
Korean cuisine is a treasure trove of unique and surprising food pairings that will revolutionize your taste buds. From kimchi pancakes with soy sauce to bulgogi lettuce wraps, each combination offers a delightful explosion of flavors that will leave you craving for more. So, why settle for ordinary flavor combinations when you can unleash the flavors of Korean cuisine? Embark on a culinary adventure and experience the wonders of Korean food pairings today. Your taste buds will thank you!